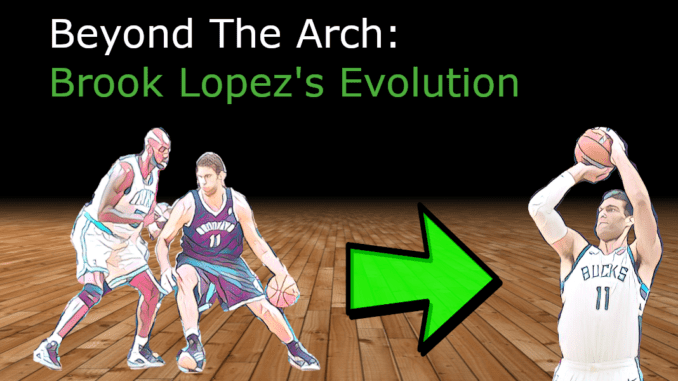 Beyond The Arch is a series of articles where I use K Means Clustering to better understand how players are used on offense in the modern NBA. With six new offensive archetypes we explore many questions about how modern day NBA offenses operate. You can find the very first article with a in-depth explanation of the model here.
Insights Into Player Evolution

Armed with my player archetypes for the 2015 through 2018 seasons I am able to visualize how a players offensive archetype can change over time. As you can see from the visual above 43% of players, with at least three seasons in my data set, have been assigned two or more archetypes. This number indicates that many players in the NBA can see their role change over time based on the context of the offense they are operating in and how their skill set develops over time. This inspired me to explore the data in more detail to see how certain players can evolve.
Evolution of the Big Man


For years now we have been told that the traditional big man is becoming extinct in the modern NBA. As the league moves toward more spacing and a heavier reliance on the pick-and-roll, the need for a big who can post up has dwindled. Post Up Bigs have been on the decline steadily over the last few years going from 32% of big men in 2015 to just 25% in 2018. The biggest increase has been seen in the number of rim runners as more and more offenses deploy the pick-and-roll. While becoming a rim-runner is a more natural evolution for a big man, we have seen some expand their game out to the three point line as a way of survival.
Brook Lopez's Evolution


While in Brooklyn Brook Lopez was used as primarily a Post Up Big on offense. It was with the Lakers in 2017 that we saw him shift his offensive impact to that of a Spot Up Big. He continued this trend with Milwaukee in 2018 and this evolution has allowed him to be a key contributor on a title contender. What was interesting to see is how slowly this transition took place and how accurately Milwaukee assessed his ability to contribute as a Spot Up Big within the context of their offense.
Slow and Steady Expansion To Three


While it was not until 2017 that my model recognized Brook Lopez as a Spot Up Big, you can see that the transition started in 2016. After spending only 9% of his possessions on spot-ups in 2015 this number jumped to 22% the following year. This corresponded to a decrease in post-ups, pick-and-roll roll man, and put-back possessions. To get a sense of what Brook Lopez's old offensive game looked like check out some of the highlights below from the 2015 season.
It appears that Brooklyn was on to something when they more than doubled Lopez's spot-up opportunities as his weighted Plus-Minus Rating (wPMR) jumped from the 52nd percentile to the 72nd percentile across the 2015 and 2016 seasons. This metric is a weighted average of a player's percentile rank for ESPN's Offensive RPM, FiveThrityEight's Offensive RAPTOR, and NBAShotCharts.com's Offensive RAPM. The dip in wPMR for 2017 says more about state of the Lakers at that time than it does Lopez's overall impact as a stretch big. The Bucks clearly recognized this and went all in on Brook Lopez as a spot-up threat. At 41% of his possessions, spot-ups as an offensive weapon dwarfed post-ups (9%) and PnR roll man (15%) possessions in 2018 his first with Milwaukee. Take a look at some of the plays below from his first season as a Buck and notice the amount of space Lopez creates for Giannis to attack the rim.
Conclusion
Brook Lopez is an example of how a veteran player can adapt their game to both extend the longevity of their career and contribute to winning basketball by filling a need within their offensive scheme. It is hard to argue with the results as, at the time I am writing this article, Brook Lopez is starting for the team who has the NBA's best record 40 games into the 2019 season. I for one am fascinated by how successfully Brook has made this transition and it could be a nice blueprint for other big men looking to improve their offensive impact.
I look forward to analyzing other player evolution stories in the NBA and learning more about how NBA offenses and their pieces operate. If you have ideas for future articles and how we can use these new articles please leave a comment below.
Beyond The Arch Glossary
BTA: Brook Lopez's Spot-Up Evolution