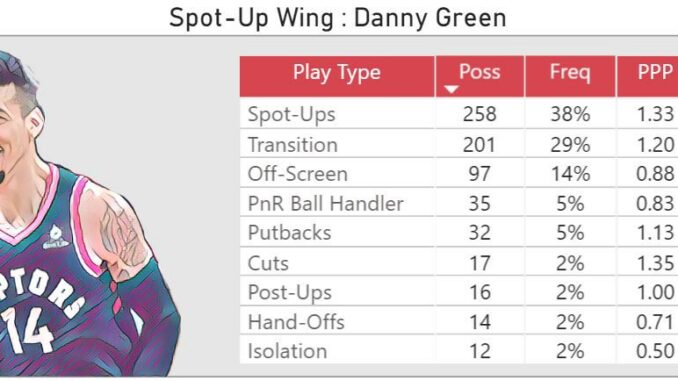 Beyond The Arch is a series of articles where I use K Means Clustering to better understand how players are used on offense in the modern NBA. With six new offensive archetypes we explore many questions about how modern day NBA offenses operate. You can find the very first article with a in-depth explanation of the model here.
In my previous article I looked at Balanced Playmakers and how they contribute to their teams offensive production. It was especially interesting to look at how Steph Currey, J.J. Redick, and Giannis Antetokounmpo could all put their own spin on this archetype. Now we will turn our focus to Spot-Up Wings and how they contribute on the offensive end despite spending much less time with the ball in their hands.
Ready and Waiting
As you would imagine players in this archetype spend almost half of their time spotting up behind the arc ready to launch a catch-and-shoot three. The less obvious piece of information here is how much these players score in transition. At 22% this archetype uses possessions in transition more than any other archetype. This can almost certainly be attributed to how often teams are looking to hit a trailing shooter for three instead of forcing a shot at the rim in transition. On average these players spend no more than 8% of their possessions on any other play type indicating that these players have a very concentrated skill set.
Spot-Up Wings On The Rise
There has been a steady and significant increase in Spot-Up Wings over the last few years. As the league moves more and more towards pace-and-space these types of players will be in high-demand. What also aids in this rise is the league putting more emphasis on scoring in transition before teams are able to set up their half-court defense. I would not be surprised to see this number continue to rise as more teams than ever before are running their offense through one or two designated playmakers and surrounding them with as many switchable shooters as possible.
Putting Faces to the Name
Now that we understand the DNA of a Spot-Up Wing, we can take a closer look at three different players who fall into this group. As you will see, even within the archetypes themselves players can differentiate themselves by how they choose to use their offensive possessions.
Danny Green is exactly the type of player teams would like to run out there as a Spot-Up Wing. He spends almost 70% of his possessions on spot-ups and in transition at league leading efficiency. This is a perfect use of his skill set as these are his most efficient play types and fits perfectly next to ball dominant playmakers like Kyle Lowry and Kawhi Leonard. Any players looking for a long career should look no further than Danny Green's career especially if they lack the playmaking skills of the elite offensive weapons.
Albeit on a small sample, Luol Deng is a good example of what we might call a "tweener". The biggest difference between Spot-Up Wings and Spot-Up Bigs is the former uses a higher number of possessions in transition while the latter spends more time posting up. In addition to the expected frequency of spot-ups (36%), Deng spends 27% of his possessions in transition and an additional 14% on post-ups. You will also notice he adds absolutely zero value through playmaking regardless if it is in a ball dominant fashion or leveraging off-ball movement.
Where our first two players added at lease some variety to their offensive usage, Bertans sees no need when you can knock down shots with relative ease. At almost 60% of his possessions being used by spot-ups, three times more than any other play type, Bertans is the epitome of a specialist. Seeing that he finished in the 92nd percentile in spot-ups last year with 1.21 points per possession, the Spurs had no issues leaving him on the perimeter to provide spacing for Derozan and Aldridge to work inside. He did rank relatively high in other play types on small samples which may indicate that if he were asked to do more within the offense he could deliver with at least some efficiency.
Once again we can see that even within an archetype players can carve out their own way to impact the game. While Spot-Up wings only provide value in limited ways, they are more valuable than ever in today's NBA. We are seeing this impact most in the draft where fewer big men are hearing their name called and teams are constantly looking to draft the next sharpshooter. As the league continues to put an emphasis on outside shooting more and more Spot-Up Wings should find their way into meaningful minutes.
Beyond The Arch Glossary
BTA: A Closer Look at Spot-Up Wings