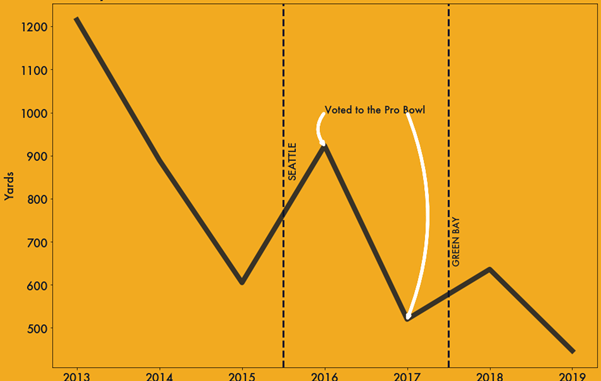 Bears fans got a lesson in regression to the mean last season. It may have been wishful thinking, but Bears fans were convinced that Matt Nagy's team would continue on their upward trajectory. Barring any maladies at the kicker position, there was even talk of a shot at the Super Bowl. It didn't turn out that way as we know. Last off-season, there was one glaring problem; this off-season, there are many more. The Bears front office have gone about fixing them and they have made a number of free agency signings. Win-now mode has been activated.
So, with the Bears front office learning from their mistake of focusing too much on one position and Bears fans being wary to predict anything into the future, we head into an uncertain offseason.
Mitch Trubisky continues to sway opinion. More people are leaning towards skepticism as his sample size of games gets larger. The Bears decision-makers might also be leaning that way, and have added one weapon that might be able to help him out when he drops back to throw. Jimmy Graham signed with the Bears on a two-year, $16 million deal, including $9 million guaranteed recently. The move has split opinion.
What do we know about Jimmy Graham?
Jimmy Graham is 33 and is coming off a forgettable time in Green Bay.His production has been declining for some time. That's understandable as a player approaching his mid-30s. What we don't know is how much that is down to his fit in Green Bay and Seattle. Ryan Pace was part of the front office who helped the Saints draft him. That's where Graham had his most productive years.
Graham says he wants to get back to himself in Chicago, which suggests all was not entirely well in Green Bay. He made two Pro Bowls in as many years with Seattle so the recent samples are inconclusive.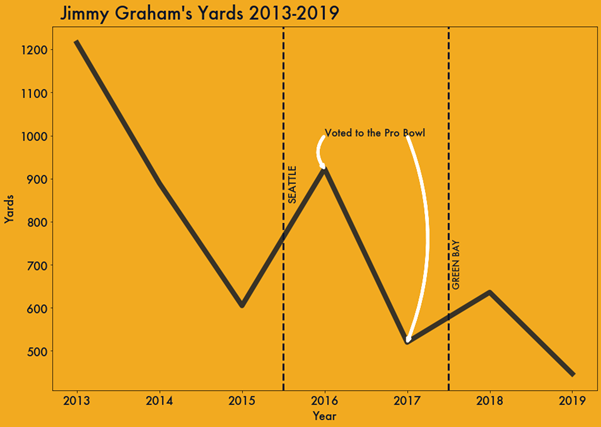 The Bears have committed to Mitch Trubisky. They say he is 'their guy', but actions speak louder than words. The move to bring in Nick Foles suggests there is uncertainty and it will work one of two ways for the current starter: (1) he will respond to the competition or (2) Foles will win the job. It's a win-win for the Bears unless both of them are terrible, which is an something not outside the realm of possibility. Regardless of who is under center for the Bears next season, help is needed at tight end.
The Bears had five tight ends who played snaps last season and they combined for less than 500 yards on 44 catches. Trey Burton might remain the number one guy but his inability to remains healthy is an issue.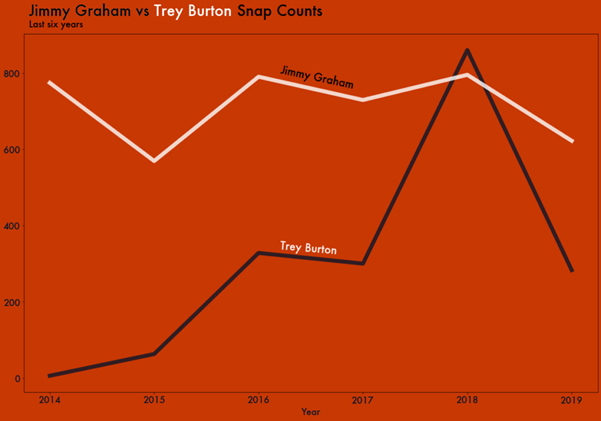 The year before Burton signed with the Bears was an outlier when it came to his health and availability. Jimmy Graham, for all the questions about his decline, stays on the field and has done even if his authority once he is there is in question. Graham offers nothing as a blocker but he is never injured and that counts for something.
Jimmy Graham's Air Yards and Yards After Catch
Graham's production has waned. One thing that remains constant is his ability to be threatening. This is a look at his air yards and yards after catch from airyards.com. He is approaching elite territory with those figures.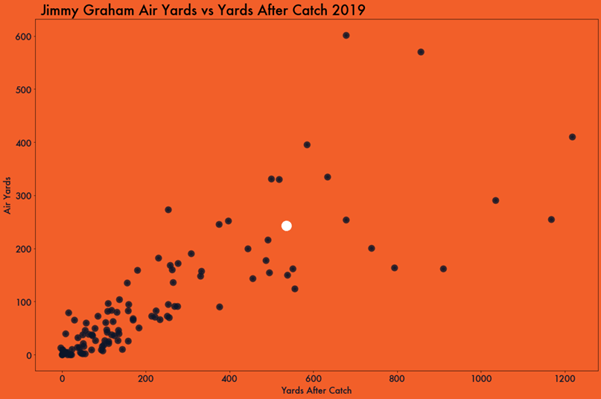 The Bears are going about their business in an orderly and calm fashion. They are acting with purpose and a plan, or at least that is how it appears. The signing of Jimmy Graham at that price is better than faffing about in free agency later. They have filled a need at TE early instead of targeting unrealistic players before settling for a late-round, developmental draft pick.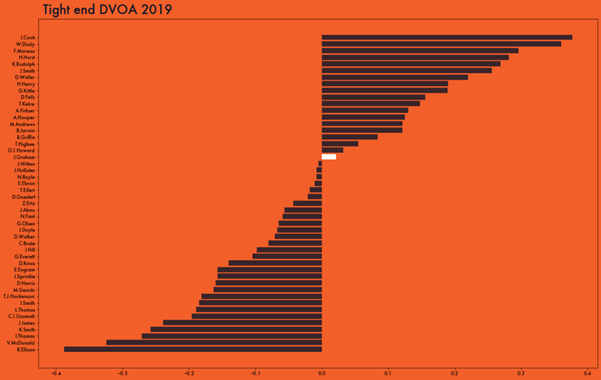 Jimmy Graham is not what he once was when he scorched defenders in New Orleans, but he is a safe pair of hands and doesn't tend to get injured. The Bears will bounce back next season to some degree after a forgettable 2019 and want to win now. Graham has one, maybe two years left in him, and he is thinking the same. This could be the perfect marriage.
The problem is that Graham was given a deal that brings questions marks with it. The Bears have committed more cap room to tight ends than another team, and it's not even that close.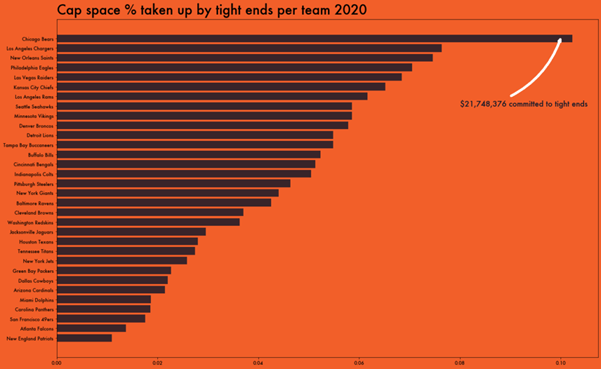 Maybe that's the way forward for the Bears in 2020. Mitch Trubisky did not have enough help at the position in 2019 and he struggled massively. Matt Nagy wants and needs him to get better at reading coverage, going through his progression and finding open receivers. Maybe having more mid-level threats to check down to will help that.
They have their running back situation locked down, their receiving corps looks to be in good shape and they have a competition at quarterback. Whoever wins the job will be left with no excuses that the offence wasn't invested in. Whether it's Trubisky or Foles who is starting under centre next season, the Bears have surrounded them with enough talent to make something happen. The defence should remain stout but the question is whether the passing offence can keep up.