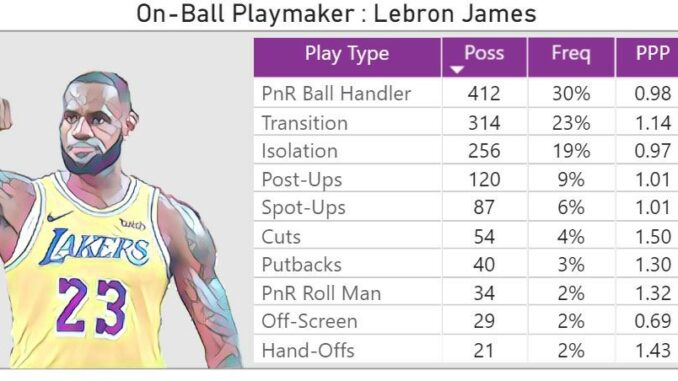 In my previous article, I used a K-Means clustering model to develop a brand new group of offensive archetypes to bucket players. The result was an entirely new way to understand a player's offensive role and responsibilities. In this article we will take a closer look at the On-Ball Playmaker archetype.
Isolation and Pick-and-Roll Artists
On-Ball Playmakers are defined by heavily relying on the pick-and-roll to generate points as well as taking their defender one-on-one in isolation. These types of players also seem adept at scoring in transition, in many cases leading the break as the primary ball-handler. While some exceptions exist, like Lebron James and Kawhi Leonard, these players typically do not post-up preferring face-up when attacking their defender.
On-Ball Playmakers on the Rise
The number of On-Ball Playmakers has risen over the last couple of years. This may have a lot to do with the increased focus on the pick-and-roll across the league. Not only are teams looking to draft playmakers year in and year out, veteran NBA players work rigorously in the off-season to add these skills to their game.
Putting Faces to the Name
Now that we understand the DNA of an On-Ball Playmaker, we can take a closer look at three different players who fall into this group. As you will see, even within the archetypes themselves players can differentiate themselves by how they choose to use their offensive possessions.
James Harden in some ways has created his own archetype. Harden operates via isolation more than any other player, and it is really not that close. In fact, Chris Paul was the only other player last year to use over 30% of their possessions by taking their defender one-on-one. With another 23% of his possessions as a pick-and-roll ball-handler, James Harden has the ball in his hands on 74% of the possessions in which he takes a shot or commits a turn-over. If we need a poster boy for a ball dominant playmaker, The Beard is our guy.
Kemba Walker dominates offensively with the ball in his hands differently than James Harden. While only 9% of his possessions were used in isolation last year, almost 50% where spent as a pick-and-roll ball handler. This is most certainly a sound use of his offensive time as he ranks in the 91st percentile in points-per-possession (PPP) as a conductor of the pick-and-roll. Like Harden, Walker ranks better than the 80th percentile in both Isolation and PnR points per possession.
The great thing about these archetypes is they allow us to compare players who otherwise would be in different traditional positions. While Kemba and Harden are both Point Guards by traditional standards, Lebron is very much a Forward even if we call him a "Point Forward" with how versatile he is on the court. Lebron spent 30% of his possessions last year in the pick-and-roll with another 19% coming via isolation. This is much more balanced than our two previous case studies but still represents almost 50% of James' possessions spent attacking with the ball in his hands. In this new world we can compare Lebron to Harden and Walker despite being the size of an NFL linebacker.
Conclusion
As you can see On-Ball Playmakers come in many varieties. Many of the leagues best players fall into this category which should not be surprising. NBA teams have a lot to gain by putting the ball in the hands of their best players. What we will see in the next article is that you can be a star in this league without operating with the ball on a string in isolation and the pick-and-roll almost 50% of the time. In my next article I will take a closer look at Balanced Playmakers.
Beyond The Arch Glossary
BTA: A Closer Look at On-Ball Playmakers