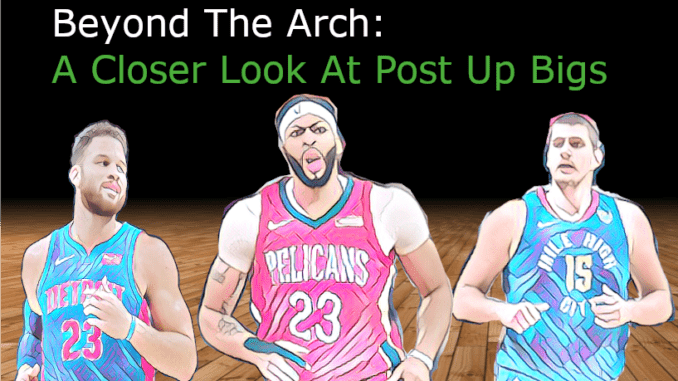 Beyond The Arch is a series of articles where I use K Means Clustering to better understand how players are used on offense in the modern NBA. With six new offensive archetypes we explore many questions about how modern day NBA offenses operate. You can find the very first article with a in-depth explanation of the model here.
In my previous article I took a deeper look at Spot-Up Bigs which is the modern take on a big man in the NBA. In this article I am going to turn back the clock and take a closer look at some of the more vintage big men in the NBA. It is a misconception that post-up bigs cannot succeed in today's game. There were seven Post-Up Bigs with a weighted Plus-Minus Rating (wPMR) of 90% or better in 2018. This is only two less than Balanced Playmakers and dwarfs Spot-Up Bigs who come in at just one such player. The issue is if you are not one the best it gets ugly quick. Lets take a look at the archetype as a whole and what makes some of the more effective players successful.
Post-Up Bigs by the Numbers

Not surprisingly Post-Up Bigs Post-Up on average 27% of the time, more than all other archetypes combined. Most of the rest of their offense comes from PnR as a roll man, Cuts which for bigs is usually out of the dunker spot, and Put Backs which are all typical "big man" things. It is also worth noting that Post-Up Bigs Iso 6% of the time which is tied for second most and the highest non-playmaker mark. This will make sense as we look at the types of players in this archetype and how skilled they are compared to secondary offensive pieces.
Post-Up Bigs on the Decline

In the chart above we can see first hand the direction the NBA is going. There were only 30 Post-Up Bigs in 2018 down from 44 in 2015. As the NBA goes smaller there is very little room for these types of players. If you are not one of the elite options out of the post there is a good chance you will be replaced in the rotation by a more versatile wing who can space the floor and accentuate the strengths of the offensive Playmaker.
Post-Up Bigs Player Profiles
Now that we understand the DNA of a Post-Up Big, we can take a closer look at three different players who fall into this group. As you will see, even within the archetypes players can differentiate themselves by how they choose to use their offensive possessions.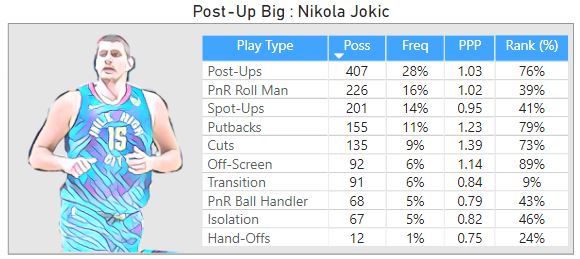 Nikola Jokic may not only be one of the best offensive big men in the league today but maybe ever. His passing is matched by very few players in the game regardless of size or position. At 28% of possessions Post-Ups account for the majority of his offense and he is very effective from there at 1.03 points-per-possession (PPP). What makes him unique is his ability to be used as a spot-up or off-screen threat in small servings as well. I would not be surprised to see him used more off-screens as his 1.14 PPP puts him in the 89th percentile. Just the idea of a fellow big man having to chase him around the court off-screens makes me tired. Possibly hinting at his lack of raw athleticism Jokic ranks in only the 39th percentile as a roll man despite 16% of his possessions being used this way. These numbers possibly underestimate his impact in this part of the game since they do not factor in his ability to find open shooters out of the PnR.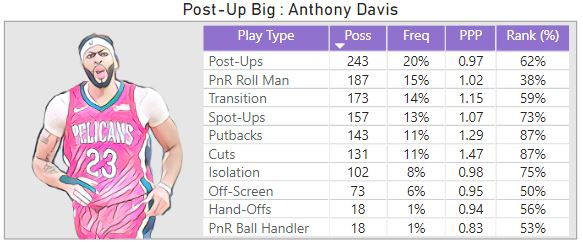 Some people may be surprised by AD not being a "playmaker" but post-ups accounted for more of his offensive possessions than any other play type. His 0.97 PPP, which puts him in the 62nd percentile, is strong but not a spectacular number which would lead you to believe he is one of the five best players in the league. To paint the full picture, on offense at least, we would need to dig a bit further. Davis has six play types that used up at least 11% of his possessions and all but one come with efficiency in the 59th percentile or better. The lone play type that comes in below that mark was PnR Roll Man (39%) which may say more about the ball-handlers getting him the ball than his own skill set. To have a player with the physical tools of AD, the Defensive Player of the Year talent, and the wide range of ways to attack offensively you can start to see why Davis is an unquestioned superstar in the league.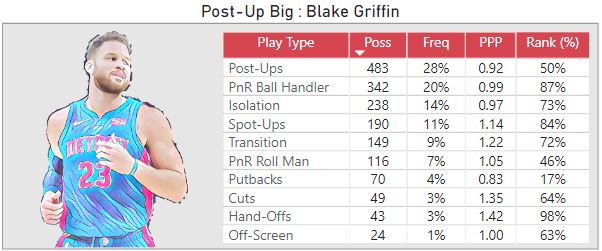 Blake Griffin spent 28% of his possessions on post-ups albeit at league average efficiency. What is unique about Griffin is he spends the rest of his possessions doing non-big things. At .99 PPP Blake is one of the most efficient PnR Ball Handlers which is his second most frequently used play type at 20%. He also isolates on 14% of his possessions with efficiency in the 73rd percentile further showing his ability as a playmaker. If he was not well-rounded enough his other play type above 10% is Spot-Ups where he clocks in with 84th percentile efficiency. Blake Griffin is truly one of the most versatile big men we have in the league and you can't help but wonder if injuries kept him from truly reaching his ceiling.
As you can see Post-Up Bigs are not dead in this league but in order to be successful you have to have other wrinkles in your game. Whether you are an elite passer and shooter like Jokic, two-way superstar like AD, or a jack-of-all trades like Blake, turning your back to the basket and powering through the opposing defense is not enough in the modern NBA. In my final introductory article of the Beyond The Arch series I will look at the Rim Runner Archetype to better understand these players.