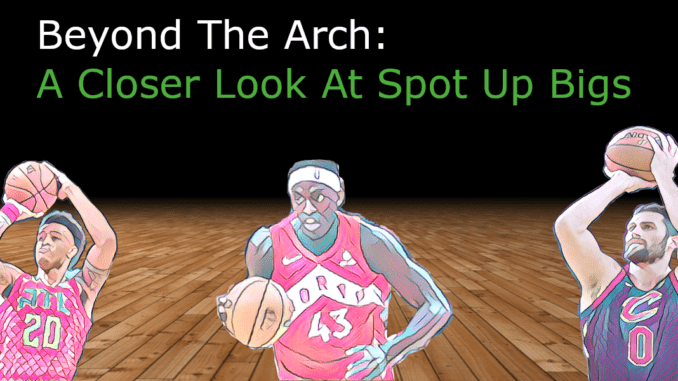 Beyond The Arch is a series of articles where I use K Means Clustering to better understand how players are used on offense in the modern NBA. With six new offensive archetypes we explore many questions about how modern day NBA offenses operate. You can find the very first article with a in-depth explanation of the model here.
The modern NBA is quickly going away from the traditional post bound big man. In order to survive in today's world an old school big must adapt. One way to do that is to expand their game out past the three point line. In this article I will take a closer look at the Spot-Up Big archetype. Interestingly enough in my last article I analyzed Brook Lopez's transition from being a Post-Up Big in Brooklyn and LA to being an effective Spot-Up Big the with Milwaukee Bucks. You can find that article here on PlayingNumbers.com.
Spot-Up Bigs by the Numbers
Spot-Up Bigs are the second least common archetype you will find over the last four years behind only Post Up Bigs. On average these players use 31% of their possessions on spot-ups. While a healthy 17% of their possessions are used as a pick-and-roll (PnR) big man, I would imagine many of these possessions are more of the "pick and pop" variety compared to their rim running and post up counterparts. Intuitively they clean up teammates misses at the basket via the put pack less than other big men due to how many possessions on offense they spend on the perimeter.
Slow and Steady Growth
After a drastic drop from 2015 to 2016, spot-up bigs have been growing slowly over the last three years. As the league moves more and more towards playmakers and versatile wings the amount of minutes available to bigs has dwindled. To compound the issue, there are very few bigs available in the NBA talent pool that can shoot with efficiency and hold up in the post defensively. While these types of players are rare this actually makes them quite valuable to the teams lucky enough to have them.
Spot Up Bigs Player Profiles
Now that we understand the DNA of a Spot-Up Big, we can take a closer look at three different players who fall into this group. As you will see, even within the archetypes players can differentiate themselves by how they choose to use their offensive possessions.
Collins was extremely effective for the Hawks last season coming in with a weighted Plus-Minus Rating (wPMR) of 93%, tops for Spot-Up Bigs. Collins scored 1.25 points per PnR Roll Man possession which was in the 80th percentile. Pair that with league average spot-up shooting and Atlanta had an offensive piece they could use in a variety of ways. Collins had six different play types come in at more than 100 possessions, all with good efficiency, which means he should be able to contribute within the confines of several archetypes once he fully develops.
Kevin Love is one of the first names I think about when I hear Spot-Up Big. He was a major part of the Cavs title team largely due to his ability to knock down the outside shot. As you can see above even in the post-Lebron era he was lethal as a spot up threat. At 1.14 points per possession he ranked in the 84th percentile. Despite a strong wPMR of 83%, it would appear Love could improve his offensive impact by lowering his post-up frequency where he only scored with 28th percentile efficiency but spent over 20% of his possessions on such plays. Transition and off-screen shooting are the only other play types that make up over 10% of his possessions meaning the Cavs sparingly used him like a traditional big in the pick and roll or in the dunker spot which more often than not show up as a "Cut" possession. Kevin Love's best basketball is most certainly behind him but he will forever be a poster boy for this archetype.
Siakam graded out as a Spot-Up Big last year but his numbers hinted at an offensive ceiling that was much higher. Siakam's most used play types were transition and spot-ups where he ranked in the 80th and 86th percentile respectively in points-per-possession (PPP). Many spot-up players are effective in transition as well due to their ability to trail the break and find an open three while the defense is scrambling. It is Pascal's next two play types that hinted at his ability to admirably fill in for the departed Kawhi this season. Siakam was very effective at 1.08 PPP in post-ups and 0.97 PPP in isolation. He also was elite as a PnR ball handler although on a much smaller sample. This leads me to believe if we were to run this analysis for the 2019 season we would see Siakam as a playmaker for the new look Raptors. Pascal is a great example of how the most elite players can shape their game to whatever their team needs to win. It also goes to show that it is possible for spot-up specialists to evolve into true playmakers with enough skill and hard work.
Spot-Up Bigs are such a fascinating group to analyze given the current state of the NBA and how rare it is to find a big man who can stretch the floor and do enough other stuff well to provide positive value. The league is always evolving and sometimes it takes time for players to catch on and adjust their skill development focus at a young age. It will be interesting to see if in future generations we will see more big men working on their outside game inspired by guys like Kevin Love and Dirk. In my next article I will take a closer look at the true old school giants of the NBA, the Post-Up Big.