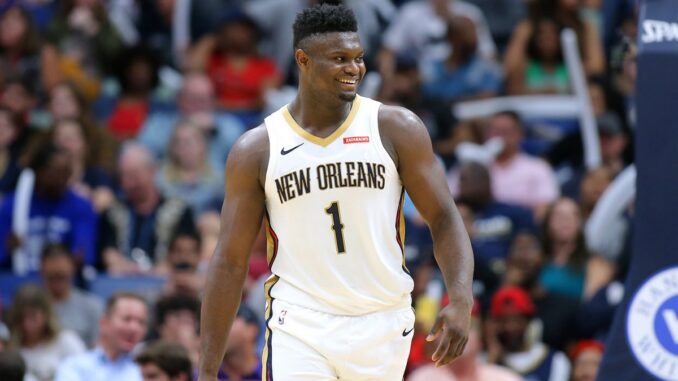 #1 overall pick of the 2019 draft, Zion Williamson, is currently out with a torn lateral meniscus. With an initial sideline time of 6–8 weeks, and given we are already a quarter of the way through the season, it begs the question, "Will Zion play this season"?
Plenty of hyped rookies ended up sitting out their initial draft year due to injury. The likes of Detroit Pistons star forward Blake Griffin, and a pair of Philadelphia 76er All-Stars in forward Ben Simmons and center Joel Embiid sat out their draft year and ended up being a strong force with their squads. As we all know, Zion Williamson has been the most hyped rookie in recent memory. It all started with his high school clips in South Carolina. Someone with such athleticism, size, and natural talent has been a joy to watch flourish from high school years up until the NBA preseason.
In his small sample size of four games in the 2019 NBA preseason, Zion Williamson averaged 23.3 PPG, 6.5 RPG, 2.5 APG, along with 1.5 steals per game (per FOX sports.com). There were flashes of greatness, long strides down the court in a successful attempt of a Lebron-esque chase down block. Along with those flashes, came flashes of amateurism. Breakdowns on defense, poor passing decisions, and poor shot selection, given his 25% 3-pt shooting. He earned his #1 overall pick selection, but we have yet to see him on the court this regular season.
According to Reuters.com, the meniscus injury is commonly recovered from, showing almost no regression prior to the injury. The timetable of a couple months makes us think that Zion should be ready to make a return this month, December of 2019, but the basketball world has heard nothing of the sorts. Where is Zion Williamson? As a competitor of his stature, he is more than ready to make his return, and the New Orleans Pelicans know that. With a franchise-altering piece such as Zion, we are beginning to realize just how hesitant the Pelican's front office is when it pertains to their star rookie's return.
Let's take a look at some of the Pelican's team statistics through December 17th and see if Zion's presence is needed on this roster.
According to the stats above, Zion's rebound ability is something that the Pelicans really need on their roster. Zion's offensive rating could really help bolster the lackluster Pelican offense, which is 19th in the league when it comes to scoring the ball. His defense could use some help, but this is a common issue among rookies, especially the ones with such outstanding scoring ability like Zion Williamson.
My verdict is to let Zion come back on a minutes restriction, maybe at 20 minutes a game for a few weeks, or even until the all-star break. Zion's health will definitely have to be monitored closely, and the medical staff will have to be on full alert. Let me know below what decision you think the Pelican's front office should make when it comes to Zion's return to the NBA.